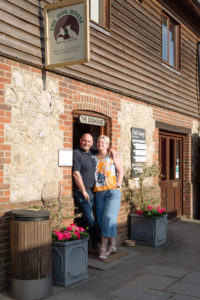 Duncan and Claire welcome you to The Dog House. As new custodians of the micro pub we hope to continue in the footsteps of Karen and Jim and stay true to the venues friendly and warm atmosphere while adding a bit of our own personalities along the way.
Housed in what was originally the barn for convalescing dogs from the vets The Dog House is a warm and inviting micro pub offering local ales, homemade food and live music. We also have an extensive vinyl collection for you to peruse and play or bring your own along and listen while you relax with a drink.
With ample parking, retail outlets and a nature trail we're the perfect place to stop and refresh, welcoming families and dogs.
Situated just 10 minutes out of Ashford, 15 minutes from Hythe, 20 minutes from Folkestone and under 30 minutes from Canterbury we may not be on your doorstep but we think you'll find the journey worth while.
The Dog House ~ Your not so local Local